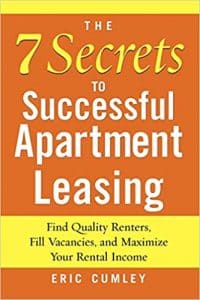 The 7 Secrets to Successful Apartment Leasing: Find Quality Renters, Fill Vacancies, and Maximize Your Rental Income (CLS.EDUCATION) Paperback – October 6, 2005
From telephone presentations to showing apartments to closing the deal—insider secrets to filling every apartment, every time.
Vacant apartments mean income lost—for property management companies, investment property owners, landlords, and anyone else who relies on rental income to pay the bills. In 7 Secrets to Successful Apartment Leasing, Eric Cumley provides seven proven industry secrets to building the relationships that achieve and maintain high occupancy levels. From "Stop Qualifying Prospects and Start Interviewing Them," to "Follow-Up is the Extra Mile," Cumley provides examples, tips, to-do lists, sample scripts, and more that will help you responsible for filling vacancies do so, quickly and effectively.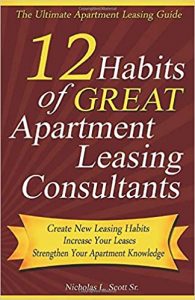 12 Habits of Great Apartment Leasing Consultants: The Ultimate Apartment Leasing Guide for Leasing Consultants Everywhere! 1st Edition
***PLEASE READ THIS ENTIRE DESCRIPTION***12 Habits of Great Apartment Leasing Consultants is the ultimate tool to help you boost your apartment leasing knowledge. This dynamic one-of-a-kind book will increase your closing ratio immediately once you have mastered the 12 Habits of Great Apartment Leasing Consultants. This book is not just for Leasing Professionals it is also perfect for Property Owners, Leasing Managers and Property Managers, from novice to expert, most will find this book an invaluable resource. In the straight to the point easy to digest text, Nicholas L. Scott Sr. offers his years of experience coupled with the knowledge he's gained from other great leasing consultants, so you can take all of the guesswork out creating the habits you need to be successful! If your objective is to gain more signed leases, train or refresh your Leasing Team or break into the industry, this book is for you! Please read: Note: THIS BOOK IS APARTMENT LEASING 101 – USE IT AS A TOOL. IF YOU ARE "NOT" NEW TO THE INDUSTRY – THIS BOOK IS STILL USEFUL! IT WILL REJUVENATE YOUR MOTIVATION TO LEASE AT A HIGH LEVEL! IT WILL REMIND YOU OF THE ALL THE IMPORTANT THINGS YOU LEARNED FROM DAY ONE! This book is best served for ALL NEW Leasing Consultants & any Leasing Consultant that needs a recharge!! It is also great for Group Discussions, Staff Meetings, Team Building, and Managers who may have never leased. This book WILL help you Increase your closing ratio, leases, and it builds confidence.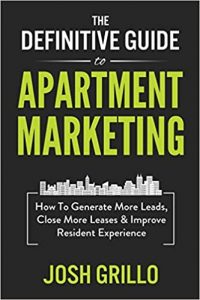 The Definitive Guide To Apartment Marketing: How To Generate More Leads, Close More Leases & Improve Resident Experience Second Edition
In this updated edition of The Definitive Guide To Apartment Marketing, Josh Grillo shares insight into new tools, tactics and terminology that are increasing leads, leases, occupancy and rents.
The Definitive Guide To Apartment Marketing has been called a "MUST HAVE" book for marketing directors, owners, developers and property management companies that want to get the most out of their marketing.
Here's some of what you'll get in this updated edition:
33 Catchy Craigslist titles that you can implement immediately for better results
Our #1 strategy for creating your own resident review page
How and when to ask for resident testimonials
The 10 questions you MUST ASK when getting a new website
63 Apartment marketing slogans that you can put to work today
Paid traffic strategies using Google Adwords for search, geotargeting & remarketing
Search engine optimization (SEO) guidelines to follow
18 Tips for improving response on your apartment website
Don't miss this blueprint for increasing leads, leases and retaining more residents at your apartment communities.