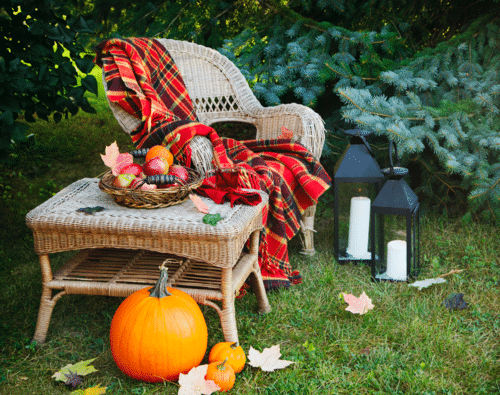 Many people would argue fall is the most fashionable season – jewel tones, cable-knit sweaters, fluffy scarves – and we'd be inclined to agree! In fact, going from summer to fall is a great reason to redecorate your home with cozy touches that'll keep you warm as the temperature drops. Whether you're into a spooky Halloween scene or rustic Thanksgiving spread, there are no limits to how festive your home fashion can be.
Pumpkins, Wreaths, and Brooms, Oh My!
The easiest way to fall-ify your home is light, simple touches of classic seasonal favorites. Pumpkins are likely already at your grocery store, so grab a few for your porch. Don't have a porch? Don't feel like lugging big vegetables home? Understandable. Capture the same effect with smaller-sized gourds that look great on tables, bookshelves, and mantles. Be creative! These décor pieces are so small they can add a cozy touch to any room. For bonus points, paint or cover them with glitter!
Another easy move is a seasonal wreath. Christmas wreaths have been a décor standard forever, but a fall wreath is just as effective. Made with maple leaves, straw, even a small gourd or two, fall wreaths are like a cornucopia for your front door. Another great touch? An old, rustic broom perched in the corner. Most grocery stores even sell cinnamon-scented brooms if you want the scent of fall as you pass through a room. But if spices aren't your nose's delight, a regular gnarled or stick broom will still give the autumn effect (and a slightly spooky one).
Warm Spirits and Warmer Colors
If the typical fall imagery is a little too on-the-nose for you, you can still ring in a new season with a change in color palette. Deep oranges, rich burgundies, and even touches of beige and brown will take you from bright summer to moody fall seamlessly. Great places for these pops of color include a blanket for the couch, tableware and linens, even curtains.
If you're looking for something a little more exciting than plain colors, consider patterns like plaid, tartan, and houndstooth, as well as heavy wool, suede, and corduroy textures. Grab a plaid pillow to adorn your couch with a burnt orange blanket or a cable-knit throw for the foot of your bed to create a subtle but cozy fall atmosphere.
Stay Spooky!
Okay, Halloween enthusiasts, this is your moment – often the cornerstone of the fall season, Halloween is one of the most fun holidays to decorate for… especially if you have kids. Skeletons, ghosts, cobwebs, and cauldrons are just a few fun décor ideas for living rooms, fireplace mantles, and tabletops. If you have a front yard, creating homemade gravestones from pieces of Styrofoam or cardboard are a great chance to tap into your creative side and write funny epitaphs. Plus, who said twinkle lights are just for Christmas? String up white and orange lights along a porch or your roof for a candy corn-themed nighttime spectacle.
Be the Center of Attention
Sometimes simpler is better. Whether you're on a budget or just don't like to deck out your home for every holiday, if you're only going to choose one decorative option for the season, you can't go wrong with a stunning centerpiece. Fall centerpieces consist of simple, easy to find items like branches, leaves, and acorns (we suggest raiding your backyard) or even those handy small gourds just piled in a vase. Go as big or as small as you want, and if you don't have a dining room table? No sweat. Centerpieces can be a focal point of any room – a kitchen counter, a dresser, a mantle, a balcony, even a bathroom shelf! Scale up or down depending on where you want to add a pop of décor and enjoy!
Autumn is the favorite season of many for good reason. If it's yours, you likely already have great décor ideas in mind. But if you're a fall first-timer, we hope you got some great ideas for how to get a little cozier this year, no fireplace needed.
Reference: https://blog.aarons.com/decorating/2020/8/31/get-inspired-for-autumn